Hello and happy Saturday!
We are so excited to be participating in the Magical Product Swap.
We missed this the first time around and were kicking ourselves later, because it looked like so much fun. Sooooo....we were watching like hawks to make sure we didn't miss this round!
We were paired with Nicole Rios from
Mrs. Rios Teaches Second Grade
.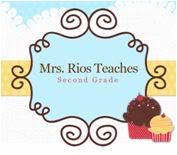 She has a really great blog and a
tpt store
with a ton of FABULOUS items!! If you have not checked out her blog and/or her store you really should!!!
So after looking through all the wonderful items in her store and hemming and hawing over which one to pick (we want them all!:) we decided on Nicole's
Place Value Around the Room Activity/Center
. It is adorable and really great because their is tons of differentiation for learners. Both of our classes totally loved it because we let them work on it as they finished their math assignment and they were so excited to move around the room and look for the cards that would help them fill in the recording sheet. This can also be used very easily in a center, but for our VERY active kiddos this year the movement around the room was wonderful.
These pictures show how easy it is to assemble this activity. We just printed off the cards and laminated them. You could also make them on cardstock or just print them off year to year. Then we printed off the version of the recording sheets that we wanted to use. After that we put the cards around the room. Finally we set our kiddos loose to work as they finished their math work for the day.
In honor of The Magical Product Swap we are having a sale in our
tpt store
through the weekend! You can head on over and save 20% off of all of our items!!
We are also giving away the product that Nicole is reviewing! If you would like a chance to win our
Common Core Math Games for Second Grade
then just enter below!!
a Rafflecopter giveaway